SpiritLive is a 24-hour a day, 7 days a week internet broadcaster, produced by students of the RTA School of Media from our studios in Ryerson University's Rogers Communication Centre.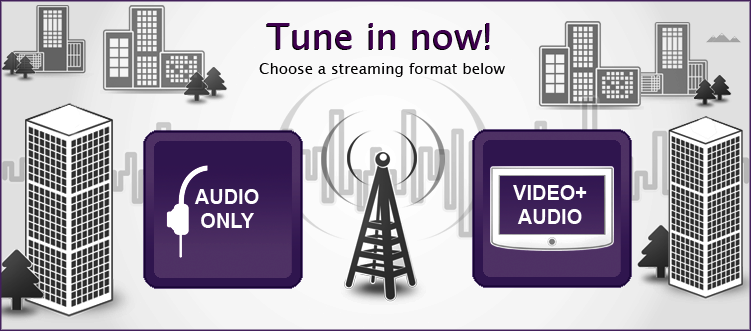 *Streams open in a pop-up window. Ensure that your browser is configured to allow pop-ups.*
December 13, 2014
By Aidan D'Aoust
It seemed we were too hasty in declaring 2014 a wash. This Friday, while we compiled our year-end lists and anticipated 2015′s massive releases, D'Angelo had the nerve to announce an album. After a lengthy absence from the spotlight, fans will hear an accumulation of more than a decade's worth of music from the man so frequently credited as transforming, popularizing and even saving his genre. Black Messiah will be the follow up to 2000′s critically acclaimed and retrospectively heralded Voodoo. Even when a potential release was mentioned this year, we remained doubtful. Our skepticism, forever justified in an utter lack of concrete evidence. Sure, new music was teased during the occasional live performance (including a memorable few with frequent collaborator ?ueslove), but even these appearances were separated by bouts of silence. Every vague tease only added to the fans' growing uncertainty and utter frustration. Again and again, we reluctantly surrendered to the unlikelihood of new music.
No matter the result of next week's release (and inevitable letdown for some) D'Angelo's legacy is already cemented in his influence on modern music. As fate would have it, D'Angelo's return coincides with the reemergence of the very sonics he so effortlessly pioneered (credit is also due to Erykah Badu, The Roots, and Lauryn Hill). Whether it be Neo-Soul or PBR&B, the sound has once again landed into critical favor and has found its way onto the charts. Fourteen years ago, Voodoo challenged a genre's contemporary landscape with its organic instrumentation and unapologetic balladry. It was an LP that broke the mold in an era dominated by poppy, single-oriented music. As quick as it was unexpected, an artist shattered the popular representation of R&B with only two albums to his name. There is no question that a world without D'Angelo, means a world without Miguel, Jhene Aiko, or The Weeknd. A world without Voodoo is a world without Frank Ocean's Channel Orange, and some of this decade's most triumphant work.
What is so undeniably special about D'Angelo (and no doubt why this album was so desired in the first place) is that a microscopic discography resulted in such formative and genre-defining art. An impact such as this may in fact, be the exact cause behind the wait. Perhaps an artistic drought due to lack of inspiration, it may also be a result (conscious or otherwise) of one distancing themselves from their own legacy. For starters, proof of this separation exists in name. The phrasing of "D'Angelo And The Vanguard" adorns the Messiah jewel cases floating around online. Whatever the reason, a rebranding helps to carry the baggage of satisfying an impossible expectation. Factor this in with the sheer number of years that have passed, and Messiah is be hard-pressed to tarnish its bolder and more defining predecessors.
D'Angelo's track record will, undoubtedly, make it difficult for us to expect anything but greatness. Black Messiah could end up being  incredibly beneficial or completely damaging to his career. Risks like these make the release such an anomaly. If successful, it will reinvigorate a career that promised so much potential. If successful, it will stir more recognition for an artist that is so often forgotten, yet totally seminal. The danger of this release is that it will exist in an era saturated by the music it has greatly inspired. If Messiah is anything less than great, it will fail. When we lower our expectations and view this LP simply as "more D'Angelo music", it will have a chance to be properly enjoyed. It is much safer to receive Messiah as a gift to the fans who have waited this long. That in mind, Messiah should not be viewed as an extension of the artist we came to know, but a revisiting of the music we have come to love. But no matter the eventual opinion and looming Metacritic score, we will still have new D'Angelo music. And that in of itself, is what makes this Black Messiah our story of the year.
You can purchase Black Messiah when the album is released worldwide on Decemeber 16th.
Listen to NPR's terrific sit-down with D'Angelo earlier this year.
---
December 9, 2014
By Aidan D'Aoust
Riley Szulc Band consists of Riley Szulc (guitar and lead vocals), Chris Blachford (guitar and backing vocals), Jeff Stirling (bass) and Jacob Cappe (drums). This past year they released their debut EP "When The Morning Comes" and more recently, a music video for the song "In The Summer".
SPIRITlive sat down with Riley Szulc to talk about the latest EP, having a new bandmate, and adding some "heavy bits" to his music.
Let's talk about your EP "When the Morning Comes". Is this your first EP?
Szulc: With this band, ya. I'm a very established Canadian musician (laughs). I had a band in high school. We recorded an EP and an album.
Where did that go?
Szulc: Nowhere. Those were both home-recorded with very little budget. They sounded fine, but this EP (When The Morning Comes) was the first time that I spent actual money, because I wanted it to sound good. Honestly, I wanted it to sound good for personal reasons.
What do you mean by that?
Szulc: I remember having conversations with people, trying to convince them that it's worthwhile to spend money on five songs and twenty minutes of audio. I was feeling discouraged after my high school band ended. I didn't play any music live for over a year and didn't know what to do with myself. I had written a few songs, but I still needed to do something to come back with a bang. So I decided it would be worthwhile for myself to produce something that was the best I had ever done, the best-sounding thing I'd ever released. So in February, I dug into my life-savings and went into the studio.
Were you the primary songwriter in your high school band as well?
Szulc: Ya. In that band I would write, maybe seventy percent of each song. I would take a song to the band and we would jam on it and change things around, add parts and take parts out. I was very open to having my songs altered because I trusted them, they're my friends. But as a result of that it would prolong the recording process. That was what made me want control over my next project.

You've obviously matured as a musician, that can come with age and experience. Do you agree? Do you feel like your writing process has changed now that you have songwriting control?

Szulc: Well, I have a casual rule now. I finish the song completely before I bring it to the band. It sounds a little selfish, but I'm a control freak and I admit to that. (Laughs)
Well, your name is on the band.

Szulc: That's a consciousness decision. (Laughs)

"When The Morning Comes" is the first project under "Riley Szulc Band". Was this an accumulation of songs that you were sitting on or did you write for the EP specifically?
Szulc: Some bands decide to release an album at a certain time and that's when they start writing. I know there are people that can't write unless they're actually inside a studio. You know, super focused in a cabin in the woods for three weeks. But I'm just writing all the time. So ya, it was a bit of an accumulation. Four of the songs were written long before the band had even formed. One of them I wrote after, and that was "Frozen Solid".
So "Frozen Solid" was the newest song? What was the choice to use it as the single?
Szulc: I'm very open to the fact that singles aren't necessarily someone's best song. Bands often pick the song that they think is the best, to be their single. The deciding factor for me was "what's going to grab people's attention"? Essentially, I tried to choose my most accessible song. I don't necessarily think "Frozen Solid" is my best song, but I wanted to cast a wide net.

Oh really? I think that's my favorite song on the EP.
Szulc: Well then, I made the right choice!
What about you? What's your favorite song on your EP?
Szulc: I have a very different perspective because I've been listening and playing them for a while now. "Frozen Solid" is a really fun song to play, but if I was listening to my band as an outsider, I'd say "If You Fall Asleep". Lyrically, it's a little more interesting. It's not overly complex or anything, but I think it's my favourite one.

When you're writing, do the lyrics or instrumentation come to you first? Or is it the general concept comes first?

Szulc: I have a weird songwriting process. I guess it's not unheard of, but it sounds super hippyish when I say it. I never know when a song is going to be written. I never sit down and plan to write a song about a specific experience that I just went through. It's always just "I feel like playing guitar". So I'll pick it up, just start messing around with chords that sound cool. The lyrics are very visceral, which is where this starts to sound hippyish, but they naturally come to me.

Are you writing as yourself or are you trying to craft a story?
Szulc: There's only one or two songs that I've written where it's not about myself.

Are any of those on the EP?
Szulc: No. Those are all very much things that have happened to me. Definitely based on experiences and emotions that I've had.

Do we need to read between the lines or is it pretty evident looking at the lyrics on paper?
Szulc: It's hard for me to know because I'm aware of everything that inspired the song. In the case of "Frozen Solid", it's pretty clear. That's just about people being cold to each other. Songs like " In The Summer" are difficult because they're a little more vague.

This is a cliché question, but I'm always interested to find out who inspires artists. Who are some of your inspirations?

Szulc: My go to is always City and Colour. Some people have told me that they can hear that influence, which is really cool. A lot of my influences are more genre-based. I listened to a lot of post-rock in high school. Songs like that are 10 minutes long and usually just instrumental. But they're all about crescendos and are very ethereal. That has definitely had an influence on my music.
But your songs aren't that long?
Szulc: There's a song that we left off of the EP called "I Used To Be" which we usually end our shows with. It's six or seven minutes long, has huge peaks and valleys, and just ends on a big epic thing that's straight out of post-rock.
"When the Morning Comes" has been out for a while. You've spent a lot of time performing the tracks off of it. Has the way you play your songs evolved?
Szulc: The live versions of the songs are more raw. We've added some things to them as well. That's more of a way to make it fresh for us, to have fun with them.
To the people who haven't listened to the EP yet or haven't seen you live, how would you describe your music?
Szulc: In short, "alternative rock". But that's kind of a boring description. It has a mix of pop rock, post-rock, and sprinkles of heavier stuff and R&B. When I say heavier stuff, I don't mean Sabbath or anything, but ya it has heavy bits.
Heavy Bits is the name of your next project ya? (Laughs)
Szulc: Yes. (Laughs)
Finally, what can expect from you soon? Do you have anything in the works right now?
Szulc: Lots of new stuff! We just added a fourth member Chris Blachford, who is extremely talented. He's in a band called "Fox and the Moon" who are freaking awesome. He's probably the best songwriter I know. He definitely adds a lot to our sound. I've also written a bunch of new stuff that we will be performing.
Live Dates:
12/28 – Toronto, ON – The Rivoli (with The Turks)
2/15 – Toronto, ON – The Piston
Check out Riley Szulc Band on Facebook and purchase "When The Morning Comes" on Bandcamp
---