SpiritLive is a 24-hour a day, 7 days a week internet broadcaster, produced by students of the RTA School of Media from our studios in Ryerson University's Rogers Communication Centre.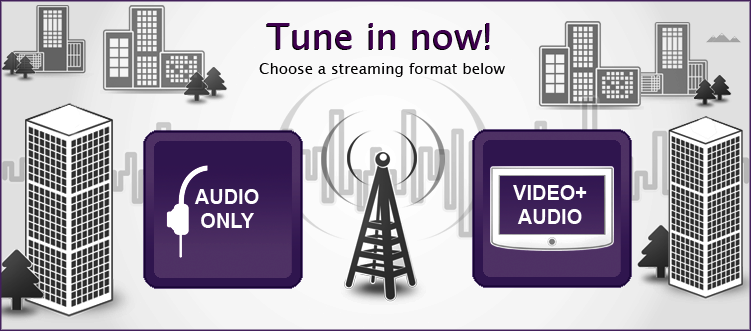 *Streams open in a pop-up window. Ensure that your browser is configured to allow pop-ups.*
October 30, 2014
Artist: Kodaline
Album: In A Perfect World
In A Perfect World is the debut album from the young Irish band Kodaline. The group has been busy building a well – deserved "next-big-thing" reputation on the back of EPs, live gigs, and YouTube hits. Still many label Kodaline as stadium wannabes and nothing more than an unoriginal mash up of the likes of Coldplay, Snow Patrol, Mumford And Sons, U2…basically any successful rock group from the UK. Me? I think this quartet is so much more.
 In a Perfect World opens with two melodic summertime anthems: the soaring, Kings of Leon-esque 'After The Fall', and the slower, yet equally exciting 'All Comes Down To'. Kodaline then goes on to showcase their versatility with two unforgettable tearjerkers, 'All I Want' (the video for which has over three million views online), and 'High Hopes'. Feel-good, folksy tunes like, 'Way Back When' and 'Love Like This' make the album a mixed bag of emotional highs and lows.
 The record is made up of great, folky songs that I can listen to on repeat without tiring. Yes, this band can easily be compared to a number of other folk/alternative/rock musicians, but is that such a bad thing? Kodaline adds a certain charisma to the musical genre that they are only continuing to develop as they work on their upcoming second album.
---
October 30, 2014
Artist: Tove Lo
Album: Queen Of The Clouds
You're gone and I gotta stay/High all the time/To keep you off my mind…
Unless you've been living under a rock, you've probably heard the song "Habits (Stay High)" by the Swedish singer, Tove Lo.
Her latest album, Queen of the Clouds, is a mix between alternative rock and electropop. The album centers around a relationship and a breakup, separated into three distinct parts: "The Sex", "The Love", and "The Pain". Listeners can really hear this progression in both her lyrics and vocals, from the ecstasy of a budding romance to the melancholy sadness of its ending.
The passion in the beginning, it's always going to be the best part of it. The songs in "The Sex" revolve around the "honeymoon stage", and are very upbeat and energetic. Starting off with "My Gun" and "Like Em Young", she talks about the early, passionate physical aspects of the relationship. "Talking Body" delves into how things become more serious and "Time Bomb" is where she contemplates whether the relationship is worth the risk. Here we experience the musical transition of Tove Lo really falling in love.
And then you freak out, 'cause suddenly you need this person. "The Love" portion of the album is where the lyrics become more emotional. In "Moments", she convinces herself that although she has many flaws, she has something to offer. "The Way That I Am" actually chronicles her falling in love, but how her partner wants her to change. "Got Love" describes the fire of the relationship and on "Not On Drugs", my favourite track off the album, she compares her feelings to an incredible high.
And then there's no good way to end things, 'cause it's ending, you know? In "The Pain", you start to register the pain in her voice. In "Thousand Miles", she describes how her feelings are no longer being reciprocated, but still continues their physical relationship. In "Habits (Stay High)", she outlines all the gory details of how she tries to get over the breakup – eating junk food, drinking, doing drugs, sleeping around. In "This Time Around", she reminisces about their relationship. In "Run On Love" and "Love Ballad", she talks about how they temporarily get back together and how she'd do anything for him.
Overall, the album is really unique, especially when it comes to the separation of each section, like chapters in a novel, or acts in a play. Tove Lo's lyrics are absolutely beautiful, and the passion she emits while singing these songs is truly moving.
I'm heading out to purchase Queen of the Clouds, and so should you.
---